Sell Articles Online — Monetize Your Ideas
Minimize operational stress and boost your sales potential with the SellMyForms e-commerce platform.
How it works
Think, create, and get paid to write articles with SellMyForms.
Create the best article
Write persuasive text, upload the document from your desktop or mobile device, or add from your preferred cloud storage directly to our website.
Empower with design
Use the built-in PDF editor designed to help writers improve their skills and demonstrate their work better.
Publish URL on the web
Get a public link and share your texts on social media, embed it in your site or blog, or sell directly to the customer.
Get quick payments
Set up your Stripe account details and take advantage of our secure solution to increase your transaction efficiency.
Design your articles with editing tools
Experience the full-featured PDF editor to see how it's easy to create, publish and sell articles online.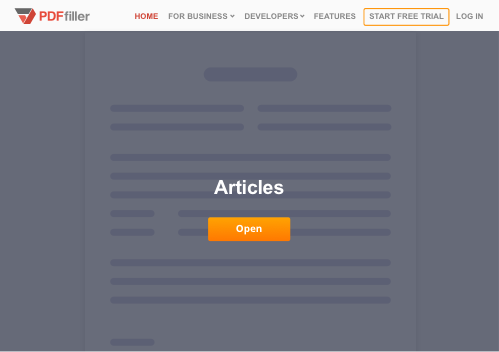 Built-in document editor

Create highly personalized PDF forms to sell your articles online. Upload your documents, edit content, add graphic elements and smart fields, and more.

Design matters

You have complete control over the look of your forms. Enjoy a userfriendly interface and advanced Drag & Drop features to write fascinating articles. No design skills required.

Secure environment

Stop worrying about thousands of rules, compliance policies, regulations, and complex updates. SellMyForms got that covered.
Sell articles online with a free landing page
Let SellMyForms take care of the web pages for your documents so that you can focus on your sales growth.
Self-hosted web pages
and automate the sales process.
Unlimited publishing
Enjoy free web pages automatically generated for each of your numerous documents.
Google-friendly URL
We use the best SEO strategies to help you increase customer conversion and retention.
Join the growing community of people that use SellMyForms to get paid for their PDF digital downloads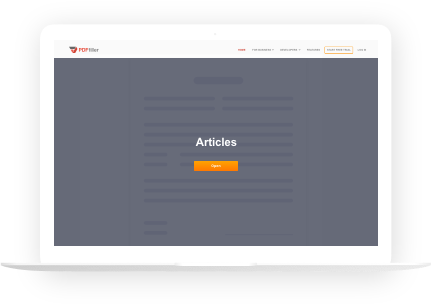 How to sell your articles online?
To sell articles online, you need to:
1

Browse for a document on your device or cloud storage.

2

Edit text and customize the form.

3

Add the catchy title and description.

4

Specify the price and connect the Stripe account in a few taps.

5

Get a web page for your article and publish it online.
For a beginner, selling even a few texts in the first months of work is a great success. At the same time, a professional web writer sells several articles per week and hardly needs any additional sources of income. How to start selling your articles online? Of course, the level of skill and training is essential, but with the right tools in your hands, you will be able to earn on your papers quickly. SellMyForms offers experienced copywriters and amateurs a smooth start with no need to invest money.
You will want to know the tone of our e-commerce platform. SellMyForms is an informative, easy-to-use, and efficient service to demonstrate good writers. To start, you need to upload the initial draft of your article. You can efficiently work on your template whenever you have inspiration, time, or opportunity due to the cross-platform of the service.
Think about the topic for writing, explore what is in demand on the Internet. Come up with a meaningful and sound title for your article. As a result, users will be able to find your workpiece more quickly and pay more attention to it. Write a short description of the text— what is it about, its style, for whom it will be useful. After you can automatically generate web pages to publish and sell articles online.
Keep in mind that the customer will judge the quality of the entire written material by the absence or presence of errors in the text, style, and design. Grind the content completely; make it accurate and beautiful using the only built-in PDF editor. In this case, success is guaranteed.
You can set any price for the results of your intellectual work and receive payments directly to your account. Moreover, the SellMyForms platform is ahead of its competitors in terms of security and usability, allowing you to sell your articles effortlessly.
FAQ
Where to sell articles online?
SellMyForms is an excellent way for authors to earn money publishing for a wide range of clients and industries. Here you can successfully promote topics such as marketing, healthcare, business, technology, sports, and much more.
How to get paid to write articles and surveys?
After you have written your workpiece, go ahead, upload your template to SellMyForms, make it accurate and grammatically correct. After, set the price, publish your work on the web, and be ready to get paid.
How much does it cost to start an online business?
The SellMyForms platform is a legal and straightforward way to join the e-commerce community and start earning today. No initial and publishing fees applied.