Sell Email Templates And Make Money
SellMyForms helps you make money doing things that you're good at. Create beautiful email templates, publish them online and receive payments for any downloads.
How it works
You only need to upload your email examples and we will do everything else:
Select your digital document
Upload it from your device: use your preferred cloud storage or the drag and drop function.
Finalize the customization of your PDF
Choose and create exclusive email design templates for almost anything. Add pictures, texts, checkboxes, and much more.
Publish your template online
Don't worry about the web page. It is generated automatically for your form. So publishing will only take a few seconds of your time.
Get your payments
Forms will be delivered to your client quickly, just like the money to your account.
Use our editing tools to create marvelous emails
Our online PDF editor allows you to create anything you want: from a Christmas postcard to a professional email. Using various fillable fields is understandable and easy.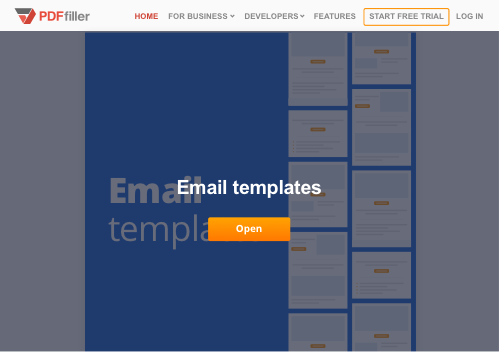 Complete security

All of your activities from drafts to transactions are fully protected.

No coding required

Create even HTML email templates with no HTML knowledge in a few minutes with smart fillable fields and the ability to customize any files.

Unlimited creation

Our storage gives you the opportunity to have as many forms as you need.
Get a free landing page to stand out
Continue working while we manage your free webpage. Our service cares about helping you concentrate on creating really good emails.
Self-hosted forms
Receive a link, and share it as you wish: in social networks, blogs or on your website.
SEO-friendly website
Effortlessly attract more traffic to sell more templates.
Fast publishing
Don't wait for even a second. Your URL will be immediately generated.
Join the growing community of people that use SellMyForms to get paid for their PDF digital downloads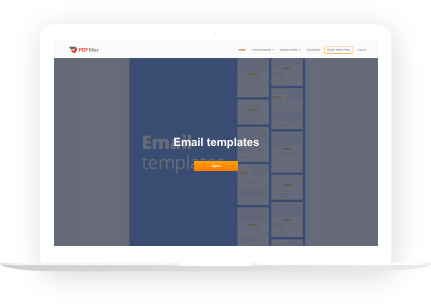 To sell email templates you only need to complete three simple steps:
1

Create your SellMyForms account. It is totally free of charge, secure, and takes only a few seconds.

2

Make your own email sample. Do not limit your imagination in the creation process.

3

Receive your payments. Selling email templates can be a good addition to your salary for any of your professional activities.
The Internet gave us the opportunity to get almost anything in the world. Information, communication, and products are just a few clicks away. The total accessibility of the Internet has also led to business development. There are millions of websites where billions of people sell and buy daily.
So what does this mean?
It means every specialist can earn money doing what he loves and knows.
Modern technologies have made online trading much easier and more secure. You can find a lot of information about the product you want to buy. People need almost everything, from broken toys to the latest developments in science and technology. And most of all, people need something that helps them make money.
Despite the widespread belief that emailing can no longer provide the desired performance, they still are an important tool for marketing. The number of total emails is growing and growing every year.
Everyone is used to boring standard mail and newsletters. Obviously, you need to stand out in order to get your letter opened. A nice, unique design will also help you sell your product or service.
Unfortunately, or fortunately, not everyone can work with graphics. For the average person, the creation process can take much more time than for a specialist. And time is money. So it's easier to buy a template. And people buy everything, including email newsletter templates. Demand creates supply. And the demand exceeds this supply that is now available. So if you can make a creative email design, this is your chance to make money easily. And with SellMyForms, it just gets easier. You only need to realize the idea, and we provide the promotion. Upload your sample, attach an account and keep track of payments.
FAQ
How can I make email templates for sale?
It's better to make templates for sale with SellMyForms:
Create an email example;
Set up your SellMyForms account in a few moments;
Upload your template and wait for the downloads.
Do I have to know HTML to create my own email templates?
No, you can use our powerful PDF editor to create exclusive email examples without any HTML knowledge.
Can I share my emails to my social media accounts?
Yes, after uploading your example to SellMyForms, you will immediately receive a URL link to it. You are free to post it anywhere you want: in blogs, on your website, social media or send it in any possible way.