Earn Extra Cash — Sell Poetry Online
With SellMyForms, you can engage poetic readers worldwide and earn money from your passion. Get decent money by selling poetry online.
How it works
Self-publish your work with in-depth content in a beautiful form.
Join SellMyForms for free
Browse for a document on your device, upload from the cloud or Drag and Drop to the SellMyForms page.
Prepare your custom book
Give every document a unique and accurate design. Use the full-featured built-in PDF editor to create and sell beautiful poetry books.
Get an attractive landing page
Configure settings for selling poetry online — automatically create a web page, add a catchy title, and leave an exciting description.
Publish and get money
Set up your Stripe account to collect payments. Share a direct link to your form or embed it on your website. Receive money quickly.
Design your poem with editing tools
Get smarter about making accurate and professionally looking poetry collections and books. See how you can give your poem for sale online a better form.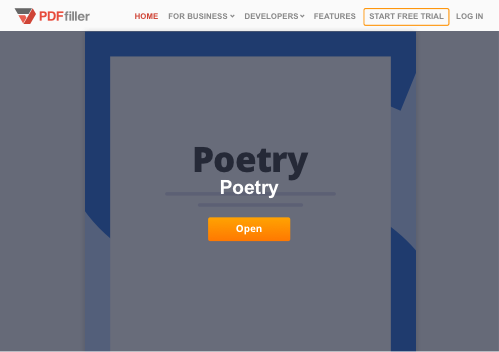 Built-in PDF editor

Use the powerful feature-rich PDF editor. No additional software is required. Make any editing to your document: type text, place watermarks, rearrange pages, and more.

Unique structure and design

Make your poems look unique. Add custom fields and create a vivid cover to your digital product. Build beautiful online books with images and even videos.

The largest storage

Add, upload and create an unlimited number of files, books, collections, and templates. Be sure your information is protected and stored securely.
Sell your poetry faster, with a free landing page
Selling poetry online is easy, with automatically generated web pages. No extra charges or time are needed to create one.
Unlimited self-hosted web pages
Get the Internet address for each digital download. Host forms online with ease.
An audience for a creative mind
Enjoy SEO-friendly Internet pages to attract a wider audience and sell more.
Guaranteed safe checkout
Stay protected with secure payments powered by Stripe. Set up your account details.
Join the growing community of people that use SellMyForms to get paid for their PDF digital downloads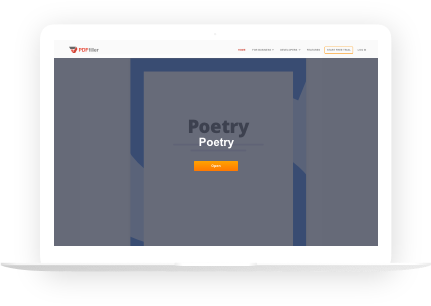 How to sell poetry online
To sell poetry, you need to:
1

Create remarkable content.

2

Upload a document and customize its form.

3

Add the title, description, and price.

4

Set the Stripe details and get the landing page.

5

Publish a link that sells and get payments.
Selling poems today is not easy. Periodicals don't pay royalties to poets, and bookstores refuse to take poetry collections on shelves. But don't despair — there is a way out. With SellMyForms, you get several ways to profit from your writing. You can create an electronic book of poems for free and sell it worldwide. You can easily sell poems from your own website. And when your works quickly become popular and highly demanded, it's best to write on request.
All the functionality of the platform is available free of charge. A modern document editor allows you to find and correct spelling errors quickly. Innovative features will help you create a bright and unique cover for your lyrics collection. You know that the visual presentation of content is also very essential for the reader. It forms the first impression.
There is an excellent way of making online sales by creating your own blog. Still, in the absence of knowledge in the construction of your own websites, the function of the automatic generation of web pages is simply indispensable. We provide everything you need for this. No specialized knowledge in code is necessary. Just keep writing from the heart. Quickly give an attractive look to your papers and distribute a free URL link as widely as possible on various thematic sites, social media, blogs, etc. We're doing everything possible so that you don't have to put up with any fuss, and can spend time on what really matters. Compose and create — and SellMyForms will cover the routine tasks.
This way, you get a fantastic opportunity to sell your poetry online. SellMyForms is where you can not only make money on writing but also become part of a friendly community and delight people with excellent creativity.
FAQ
Where can I submit poetry for money?
Share your works and books on your Facebook, gain popularity on your Instagram or other social media, and publish to dedicated communities of poets. Post to as many content websites as you have time.
How do you publish a poem for sale?
Give your creation a beautiful form on SellMyForms, set the price, and get a free web page. Now you can share the link all over the Internet or submit it directly to a prospective buyer.
How much can I sell a poem for?
By enjoying all the benefits of the SellMyForms online platform, you set the cost of your intellectual product yourself. No restrictions. You can adequately evaluate your creativity and skills because the price is up to you and only you.