The Perfect Place to Sell Resume Templates
Let your accurate CV forms earn money online for you. Use this innovative platform to create and sell templates on the web in the easiest way possible.
How it works
Take all the advantages of paid downloads in a few simple steps
Decide on a document
Upload the ready-made form or create a new one from scratch — super fast and easy. Importing materials is even possible due to cloud storage compatibility.
Give it a unique look
Easily create the most accurate online templates. Add smart fillable fields for text, date, signature and more. The comprehensive toolkit is already built-in.
Be ready to host online
We will provide you with a landing page for your sample. Share the link with the largest number of potential buyers.
Get paid instantly
Relevant and creative resume templates will bring you fast downloads. Every time a user saves your form, you get money into a bank account.
Create resume templates from scratch with our Editor
Get 100% control over the uniqueness of your crafted documents. Simple drag & drop form builder provides you a complete set of progressive tools.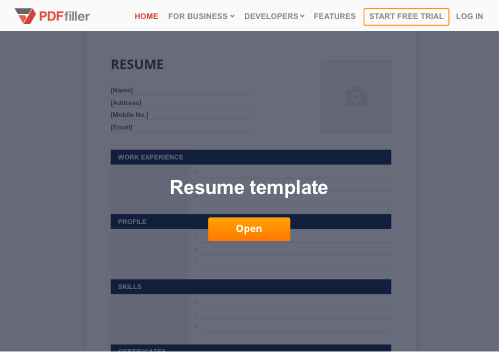 Innovative view

It takes just minutes to build or customize your resume templates word files. Meet the most comprehensive e-form builder with tools for every detail you want to add or modify.

Top grade security

SellMyForms service does care and protect your data and payments with US federal and EU compliance standards.

Merchandize your web-form

Get you automatically generated hyperlink of the free landing page and share on the Internet, use any social media and raise your online business super fast.
Boost your sales with a free landing page
Deliver the perfect job resume template and get the direct webpage link for free. Easily manage your forms and connect people worldwide.
Pre-assembled SEO
See your ready-to-use landing page and benefit from its optimization for search engines.
Host forms yourself
Enjoy full control of your web page. Publish it wherever you want on the Internet.
Quick response
The more widely you distribute your form, the faster you will start earning money.
Join the growing community of people that use SellMyForms to get paid for their PDF digital downloads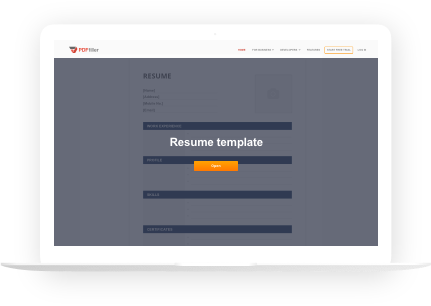 How to sell resume templates
To sell resume templates online you need to:
1

Sign up for free in clicks.

2

Explore your account settings and check payment details.

3

Create or import your digital document.

4

Publish a free webpage over the Internet.

5

Receive payments and craft more relevant samples to sell.
The Internet is not only a powerful platform for communication between people but also an excellent tool for starting a new trade. Millions of people are looking for online templates and samples that they are interested in and ready to purchase daily. The web allows you to start your business from scratch, no matter where you are physically located.
The basic step to start to sell resumes online is deciding on a profitable and reliable platform. Many specialized services allow you to organize all sales processes on the Internet effectively. Some of them are partially or fully automated. Thus, you not only achieve significant cost savings but also free up the potential for additional profit growth.
SellMyForms is one of the most trusted platforms to sell any web-form fast. You obtain not just the sales portal access, but the progressive PDF form maker with the most complete toolset for the best document design. With a few simple steps, you get a web page of your downloadable job resume template. You set the price, and every time the user will pay to download. You will get the money directly sent to your bank account. It's easy, secure and quick.
You can attract buyers from all over the country and abroad, who will download a CV template from any place and at any moment. So your documents work for you 24 hours a day. SellMyForms account holders are free from many restrictions. Potential audience coverage is not limited. Reduce the time and money required to develop the technical component of your online business. SellMyForms has all the functionality necessary to provide you with the perfect generated landing page.
If you are good at writing a CV, share it with people on the web and earn an equivalent price for your skills.
FAQ
Can I put a resume template on sale for free?
You can create and edit an e-sample and automatically get an ideal webpage to publish your form with SellMyForms absolutely free of charge. No fees for you to start your online sales.
Are there any limitations on how many templates I can submit?
We do our best to provide you with the most convenient online platform for your resume template sales — no limitation on the number of forms to publish. Effortlessly create endless amounts of e-templates and sell them fast.
What options do I have to advertise my resume template?
With SellMyForms, you get a webpage with pre-assembled optimization for search engines to make higher conversions. Moreover, you can easily share the link and let more people see it. They can then make the decision for a paid download.